Richard Dawkins - The God Delusion
Famous / Celbrity Atheists Atheism
Clinton Richard Dawkins was born on 26 March 1941 in Nairobi, Kenya, where his father was a British colonial civil servant.
The family returned to England in 1949, throughout his early years his family appear to have introduced Richard Dawkins to Anglican Christianity.

Both of his parents seem to have had some interest in scientific matters and to have attempted to seriously address Richard Dawkins' early questionings about "scientific" subjects. By his mid teens Richard Dawkins had read about the Darwinian Theory of Evolution and had accepted it to the degree that it lead to him becoming irreligious.

In his teen-age years Richard Dawkins attended a fairly prominent private school, Oundle School, before studying Zoology to bachelors, masters and doctoral degree levels at Oxford University.

Following on from his time at Oxford he gained a post as an assistant professor of zoology at the University of California, Berkeley in 1967. Returning to Oxford as a lecturer in 1970 he later, 1995, was appointed Simonyi Professor for the Public Understanding of Science in the University of Oxford.

As early as the 1970s, Dawkins had begun to establish a popular following for his work after he turned to explaining the life sciences to a general audience, beginning with his best-selling 1976 book, The Selfish Gene.

Dawkins also established himself as a prominent critic of creationism, (the religious belief that humanity, life and the universe were created by a deity, without recourse to evolution), with his best-selling 1986 book, The Blind Watchmaker, containing a sustained critique of the argument from design, an important creationist argument. This work includes the following passage:-
An atheist before Darwin could have said, following Hume: "I have no explanation for complex biological design. All I know is that God isn't a good explanation, so we must wait and hope that somebody comes up with a better one." I can't help feeling that such a position, though logically sound, would have left one feeling pretty unsatisfied, and that although atheism might have been logically tenable before Darwin, Darwin made it possible to be an intellectually fulfilled atheist.
Dawkins' emergence as a prophet of irreligion is to a large extent attributable to his own adverse reaction to the attack, by radicalised Islamists, on the World Trade Center in 2001.

The Guardian, a relatively thoughtful newspaper based in the UK featured an "Has the world changed?" article on Thursday 11 October 2001 - one month after these attacks - where 23 commentators drawn from various fields were asked to give their views in the aftermath of so much death and destruction.
Richard Dawkins contribution read:-
Many of us saw religion as harmless nonsense. Beliefs might lack all supporting evidence but, we thought, if people needed a crutch for consolation, where's the harm? September 11th changed all that. Revealed faith is not harmless nonsense, it can be lethally dangerous nonsense. Dangerous because it gives people unshakeable confidence in their own righteousness. Dangerous because it gives them false courage to kill themselves, which automatically removes normal barriers to killing others. Dangerous because it teaches enmity to others labelled only by a difference of inherited tradition. And dangerous because we have all bought into into a weird respect, which uniquely protects religion from normal criticism. Let's now stop being so damned respectful!
Richard Dawkins has since gone on to become one of the most prominent proponents of rationalism and atheism as against religiously linked ideas of the existence of life and the universe.

A significant milestone in this dramatic rise to prominence in contemporary public debates relating to rationalism, science and religion being the publication of his 2006 book The God Delusion, which has achieved greater sales figures worldwide than any of his other works to date. This Preface to this work features the following passage:-
I suspect - well, I am sure - that there are lots of people out there who have been brought up in some religion or other, are unhappy in it, don't believe it, or are worried about the evils that are done in its name; people who feel vauge yearnings to leave their parents religion and wish they could, but just don't realize that leaving is an option. If you are one of them, this book is for you. It is intended to raise conciousness - raise conciousness to the fact that that to be an atheist is a realistic aspiration, and a brave and splendid one. You can be an atheist who is happy, balanced, moral, and intellectually fulilled.
Richard Dawkins is seen as having been a major contributor to a so-called "New Atheism" movement alongside such figures as Sam Harris, Daniel Dennett and Christopher Hitchens.
He has been referred to in the media as "Darwin's Rottweiler", by analogy with English biologist T. H. Huxley, who was known as "Darwin's Bulldog" for his advocacy of Charles Darwin's evolutionary ideas.

Much of Richard Dawkins atheistical output, including many video clips of his interactions with interviewers and of his debates with other prominent figures is available online at the Richard Dawkins Foundation for Reason and Science which was established in 2006 and which has since been granted charitable status in the UK and the US.
At Age-of-the-Sage we take the view that Richard Dawkins and others Famous / Celebrity Atheists and proponents of Atheism and Rationalism are in extreme danger of throwing out the "Baby with the Bathwater". That is to say that there exists an ultimately valid Spiritual Source or Solace, and Enlightening Core of Truths, which can be over-looked as a consequence of the all-too-human failings that have been accumulated across recorded time by the adherents of Religions and, on a broader canvas, by the Faith Groups themslves.

We hope that many of our visitors will be very seriously intrigued by assessing how the "Poetical" wisdoms, the "Inter-Faith" wisdoms and the "Christian" wisdoms that are collected on our site are both individually valid and also have strong similarities despite their diversity of origin:-



Wisdom Quotes from the Great Poets
A Disdain for Materialism

Poor and content is rich, and rich enough.

Shakespeare



A Distrust of Intellect

The intellectual power, through words and things,
Went sounding on, a dim and perilous way!

Wordsworth



A Yearning for Divine Edification

God guard me from those thoughts men think
In the mind alone;
He that sings a lasting song
Thinks in a marrow-bone;

Yeats



Charity

That best portion of a good man's life,
His little, nameless, unremembered acts
Of kindness and of love.

Wordsworth



Purity of Heart

A peace above all earthly dignities,
A still and quiet conscience.

Shakespeare



Humility

The best of men
That e'er wore earth about him, was a sufferer,
A soft, meek, patient, humble, tranquil spirit,
The first true gentleman that ever breathed.

Thomas Dekker



Meekness

Since my dear soul was mistress of her choice,
And could of men distinguish her election,
Sh'hath sealed thee for herself, for thou hast been
As one in suff'ring all that suffers nothing,
A man that Fortune's buffets and rewards
Hast ta'en with equal thanks; and blest are those
Whose blood and judgement are so well co-medled,
That they are not a pipe for Fortune's finger
To sound what stop she please: give me that man
That is not passion's slave, and I will wear him
In my heart's core, ay in my heart of heart,
As I do thee.

Shakespeare






Wisdom Quotes from Inter-Faith Sources

These spiritual insights quotations demonstrate the recognition of individual important Spiritual Truths by one of the world religions in the case of each "Truth":-

A Disdain for Materialism

Chuang Tzu put on cotton clothes with patches in them, and arranging his girdle and tying on his shoes, (i.e. to keep them from falling off), went to see the prince of Wei.
"How miserable you look, Sir!" Cried the prince. "It is poverty, not misery", replied Chuang Tzu. "A man who has TAO cannot be miserable. Ragged clothes and old boots make poverty, not misery".

Chuang Tzu - (Taoism)



A Distrust of Intellect

Sell your cleverness and buy bewilderment; Cleverness is mere opinion, bewilderment intuition.

Rumi - (Islam)



A Yearning for Divine Edification

This I say therefore, and testify in the Lord, that ye henceforth walk not as other Gentiles walk, in the vanity of their mind. Having the understanding darkened, being alienated from the life of God through the ignorance that is in them, because of the blindness of their heart:

St. Paul - (Christianity)



Charity

He that does everything for Me, whose supreme object I am, who worships Me, being free from attachment and without hatred to any creature, this man, Arjuna!, comes to Me.

Bhagavad Gita - (Hinduism)



Purity of Heart

The path of the just is as the shining light, that shineth more and more unto the perfect day. The way of the wicked is as darkness: they know not at what they stumble.

Solomon - (Judaism)



Humility

Would you become a pilgrim on the road of love? The first condition is that you make yourself humble as dust and ashes.

Ansari of Herat - (Islam)



Meekness

Let a man overcome anger by love, let him overcome evil by good; let him overcome the greedy by liberality, the liar by truth! Speak the truth, do not yield to anger; give, if thou art asked for little; by these three steps thou wilt go near the gods.

Dhammapada - (Buddhism)






Wisdom Quotes from Christian Sources

A selection of wisdom quotes that demonstrate the profound depth of the insights that are recognised by Christian authorities are set out below. They are sourced from the Bible and also from the works of Thomas a Kempis whose "Of the Imitation of Christ" ranks as the second most widely read Christian text after the Bible itself.


A Disdain for Materialism

Some have Me in their mouths, but little in their hearts.
There are others who, being enlightened in their understanding and purified in their affection, always breathe after things eternal, are unwilling to hear of earthly things, and grieve to be subject to the necessities of nature; and such as these perceive what the Spirit of Truth speaketh in them.
For it teacheth them to despise the things of the earth and to love heavenly things; to disregard the world, and all the day and night to aspire after heaven.

Thomas a Kempis



A Distrust of Intellect

Beware lest any man spoil you through philosophy and vain deceit, after the tradition of men, after the rudiments of the world, and not after Christ.

St. Paul



A Yearning for Divine Edification

It is written, Eye hath not seen, nor ear heard, neither have entered into the heart of man, the things which God has prepared for them that love him. But God has revealed them unto us by his Spirit: for the Spirit searches all things, yes, the deep things of God.
...the natural man receives not the things of the Spirit of God: for they are foolishness unto him: neither can he know them, because they are spiritually discerned.

St. Paul



Charity

Beloved, let us love one another: for love is of God; and every one that loveth is born of God, and knoweth God. He that loveth not knoweth not God; for God is love.

St. John



Purity of Heart

Wherefore, my beloved, as ye have always obeyed, not as in my presence only, but now much more in my absence, work out your own salvation with fear and trembling. For it is God which worketh in you both to will and to do of his good pleasure. Do all things without murmurings and disputings: That ye may be blameless and harmless, the sons of God, without rebuke, in the midst of a crooked and perverse nation, among whom ye shine as lights in the world;

St. Paul



Humility

Neither be ye called masters: for one is your Master, even Christ. But he that is greatest among you shall be your servant. And whomsoever shall exalt himself shall be abased; and he that shall humble himself shall be exalted.

Jesus



Meekness

Wherefore, my beloved brethren, let every man be swift to hear, slow to speak, and slow to wrath: For the wrath of man worketh not the righteousness of God.

St. James



If any of our visitors were to be so open-minded as to give our presentation of the QUITE AWESOME Wisdoms that have been won by the Mystics and Poets a fair hearing we believe that we can firmly establish their own opinion of the collective insights of said Mystics and Poets to being one of appreciation and respect.
  Explore Inner Space!!!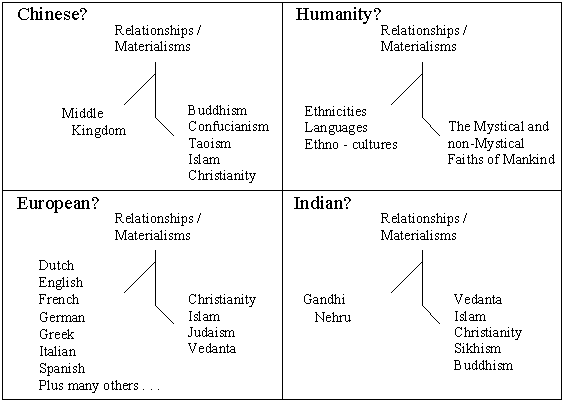 "...man is a bundle of relations, a knot of roots, whose
flower and fruitage is the world..." Ralph Waldo Emerson


It is widely known that Plato, pupil of and close friend to Socrates, accepted that Human Beings have a " Tripartite Soul " where individual Human Psychology is composed of three aspects - Wisdom-Rationality, Spirited-Will and Appetite-Desire.

What is less widely appreciated is that such major World Faiths as Christianity, Islam, Hinduism and Buddhism see "Spirituality" as being relative to "Desire" and to "Wrath".