This page features some variously blatant, flagrant, unapologetic and headlong criticisms of God, religion, faiths and religious beliefs attributed to Richard Dawkins.


It is fashionable to wax apocalyptic about the threat to humanity posed by the AIDS virus, "mad cow" disease, and many others, but I think a case can be made that faith is one of the world's great evils, comparable to the smallpox virus but harder to eradicate.
Richard Dawkins

(The opening line from a speech he gave in 1996 to the American Humanist Association whilst accepting their "Humanist of the Year" award for 1996).

Early in 2014 this image featured prominently on Richard Dawkins' Twitter account page!

... you must take the whole society to find the whole man. Man is not a farmer, or a professor, or an engineer, but he is all. Man is priest, and scholar, and statesman, and producer, and soldier. In the divided or social state these functions are parcelled out to individuals, each of whom aims to do his stint of the joint work, whilst each other performs his.

Ralph Waldo Emerson
Is Human Being more truly Metaphysical than Physical?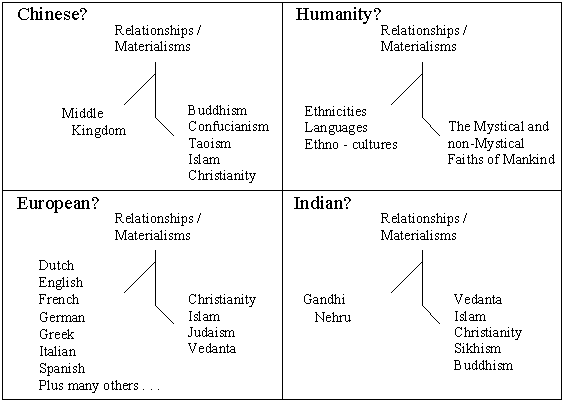 This view of Human Nature is actually endorsed by such historically accepted authorities as the major World Religions, Plato, Socrates, Pythagoras, Shakespeare and, more recently, by Psychological Science!!!
"Worshipping deities would seem to be an irrational and wasteful habit, yet it has been found in all cultures".
Richard Dawkins quoted in The Economist magazine.
We hope that you will be somewhat diverted by giving consideration to the following provocative quotations and quotes from the avowedly atheistical Richard Dawkins about God, Religion, Faith, Religious Beliefs and other topics.
Or, if you would prefer to skip over Richard Dawkins banging on "Predictably?" about what he sees as the factual ridiculousness, (and societal divisiveness), of God and Religion in order to proceed directly to be, quite possibly, seriously enthralled by deeply important wisdoms about Human Nature please click here



"The enlightenment is under threat. So is reason. So is truth. So is science... We have to devote a significant proportion of our time and resources to defending it from deliberate attack from organized ignorance..."
From an introductory page to the Richard Dawkins Foundation web site


"What has 'theology' ever said that is of the smallest use to anybody? When has 'theology' ever said anything that is demonstrably true and is not obvious? What makes you think that 'theology' is a subject at all?"

"Be thankful that you have a life, and forsake your vain and presumptuous desire for a second one."


"Everybody is an atheist in saying that there is a god - from Ra to Shiva - in which he does not believe. All that the serious and objective atheist does is to take the next step and to say that there is just one more god to disbelieve in."
Richard Dawkins


"We are all atheists about most of the gods that societies have ever believed in. Some of us just go one god further."

"I am against religion because it teaches us to be satisfied with not understanding the world."

"One of the things that is wrong with religion is that it teaches us to be satisfied with answers which are not really answers at all."

"Religion is about turning untested belief into unshakable truth through the power of institutions and the passage of time."

"The meme for blind faith secures its own perpetuation by the simple unconscious expedient of discouraging rational inquiry."


"The Bishop goes on to the human eye, asking rhetorically, and with the implication that there is no answer, 'How could an organ so complex evolve?' This is not an argument, it is simply an affirmation of incredulity."
Richard Dawkins (The Blind Watchmaker)



"Let children learn about different faiths, let them notice their incompatibility, and let them draw their own conclusions about the consequences of that incompatibility. As for whether they are "valid," let them make up their own minds when they are old enough to do so."
Richard Dawkins - The God Delusion



"The majority of children born into the world tend to inherit the beliefs of their parents, and that to me is one of the most regrettable facts of them all."
Richard Dawkins


"Many of us saw religion as harmless nonsense. Beliefs might lack all supporting evidence but, we thought, if people needed a crutch for consolation, where's the harm? September 11th changed all that."


"The human psyche has two great sicknesses: the urge to carry vendetta across generations, and the tendency to fasten group labels on people rather than see them as individuals. Abrahamic religion gives strong sanction to both - and mixes explosively with both. Only the willfully blind could fail to implicate the divisive force of religion in most, if not all, of the violent enmities in the world today. Without a doubt it is the prime aggravator of the Middle East. Those of us who have for years politely concealed our contempt for the dangerous collective delusion of religion need to stand up and speak out. Things are different now. All is changed, changed utterly."
Richard Dawkins



"My point is not that religion itself is the motivation for wars, murders and terrorist attacks, but that religion is the principal label, and the most dangerous one, by which a "they" as opposed to a "we" can be identified at all."
Richard Dawkins (A Devil's Chaplain: Reflections on Hope, Lies, Science, and Love)



"To be fair, much of the Bible is not systematically evil but just plain weird, as you would expect of a chaotically cobbled-together anthology of disjointed documents, composed, revised, translated, distorted and 'improved' by hundreds of anonymous authors, editors and copyists, unknown to us and mostly unknown to each other, spanning nine centuries"
Richard Dawkins (The God Delusion)



"Yahweh: "The God of the Old Testament is arguably the most unplesant character in all fiction: jealous and proud of it; a petty, unjust, unforgiving control-freak; a vindictive, bloodthirsty ethnic cleanser, a misogynistic, homophobic, racist, infanticidal, genocidal, filicidal, pestilential, megalomaniacal, sadomasochistic, capriciously malevolent bully."
Richard Dawkins (The God Delusion)


"God exists, if only in the form of a meme with high survival value, or infective power, in the environment provided by human culture."

"Faith is the great cop-out, the great excuse to evade the need to think and evaluate evidence. Faith is belief in spite of, even perhaps because of, the lack of evidence."



"It is often said, mainly by the 'no-contests', that although there is no positive evidence for the existence of God, nor is there evidence against his existence. So it is best to keep an open mind and be agnostic. At first sight that seems an unassailable position, at least in the weak sense of Pascal's wager. But on second thoughts it seems a cop-out, because the same could be said of Father Christmas and tooth fairies. There may be fairies at the bottom of the garden. There is no evidence for it, but you can't prove that there aren't any, so shouldn't we be agnostic with respect to fairies?"
Richard Dawkins (The God Delusion)


"...when two opposite points of view are expressed with equal intensity, the truth does not necessarily lie exactly halfway between them. It is possible for one side to be simply wrong."