Charles Darwin & the Evolutionary Tree of Life
his three major theory approaches
Charles Darwin made three major approaches to the Tree of Life concept in his evolutionary theory.

A one-time theology student in training to become a minister of religion, albeit one with a passionate interest in natural history field studies, Darwin was informally recruited as a geological advisor to accompany british naval Captain Fitzroy on a surveying voyage to South America and the Pacific Ocean.

This voyage, on board HMS Beagle, lasted some five years from 1831 to 1836 and helped to transform the would-be country parson into a theologically skeptical man of science.
Darwin - Tree of Life Approach 1 - his "Eureka" moment?
His notebook sketch of 1837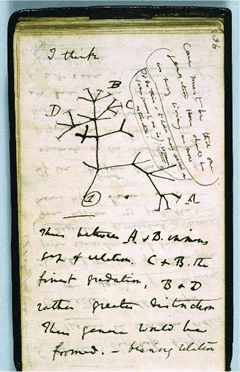 Charles Darwin's Tree of Life sketch shows his early theoretical insight of how a genus of related species might originate by divergence from a starting point (1).

The text annotations read:-

I think

Case must be that one generation then should be as many living as now. To do this & to have many species in same genus (as is) requires extinction.

Thus between A & B immense gap of relation. C & B the finest gradation, B & D rather greater distinction. Thus genera would be formed. — bearing relation (page 36 ends - page 37 begins) to ancient types with several extinct forms...

From Darwin's Notebook B now stored in Cambridge University library

Darwin - Tree of Life Approach 2 - an aide to his argument?
His diagram from The Origin of Species of 1859
This diagram, which is a significant updating of Charles Darwin's original Tree of Life sketch of 1837, is the only illustration in the Origin of Species and is referred to develop several key arguments:-

... After the foregoing discussion, which ought to have been much amplified, we may, I think, assume that the modified descendants of any one species will succeed by so much the better as they become more diversified in structure, and are thus enabled to encroach on places occupied by other beings. Now let us see how this principle of great benefit being derived from divergence of character, combined with the principles of natural selection and of extinction, will tend to act.