Richard Dawkins pictured in Melbourne, Australia in March, 2010, at a Global Atheist Convention:-


Early in 2014 the following image featured prominently, we must presume with his full consent, on Richard Dawkins' Twitter account page :-



At age-of-the-sage we hope that our visitors may find much to intrigue them on our site:



Inspiration can ~ occasionally ~ trounce Reason!!!






Some links to more "Richard Dawkins" related pages now follow:
(These are again followed by selections of "Wisdom Quotes" and "Spiritual Insights" quotations.)


More Richard Dawkins - Atheist Atheism pages



We hope that our vistors will be very seriously intrigued by assessing how the "Poetical" wisdoms, the "Inter-Faith" wisdoms and the "Christian" wisdoms that are collected on our site are both individually valid and also have strong similarities despite their diversity of origin:-



Wisdom Quotes from the Great Poets
A Disdain for Materialism

Poor and content is rich, and rich enough.

Shakespeare



A Distrust of Intellect

The intellectual power, through words and things,
Went sounding on, a dim and perilous way!

Wordsworth



A Yearning for Divine Edification

God guard me from those thoughts men think
In the mind alone;
He that sings a lasting song
Thinks in a marrow-bone;

Yeats



Charity

That best portion of a good man's life,
His little, nameless, unremembered acts
Of kindness and of love.

Wordsworth



Purity of Heart

A peace above all earthly dignities,
A still and quiet conscience.

Shakespeare



Humility

The best of men
That e'er wore earth about him, was a sufferer,
A soft, meek, patient, humble, tranquil spirit,
The first true gentleman that ever breathed.

Thomas Dekker



Meekness

Since my dear soul was mistress of her choice,
And could of men distinguish her election,
Sh'hath sealed thee for herself, for thou hast been
As one in suff'ring all that suffers nothing,
A man that Fortune's buffets and rewards
Hast ta'en with equal thanks; and blest are those
Whose blood and judgement are so well co-medled,
That they are not a pipe for Fortune's finger
To sound what stop she please: give me that man
That is not passion's slave, and I will wear him
In my heart's core, ay in my heart of heart,
As I do thee.

Shakespeare






Wisdom Quotes from Inter-Faith Sources

These spiritual insights quotations demonstrate the recognition of individual important Spiritual Truths by one of the world religions in the case of each "Truth":-

A Disdain for Materialism

Chuang Tzu put on cotton clothes with patches in them, and arranging his girdle and tying on his shoes, (i.e. to keep them from falling off), went to see the prince of Wei.
"How miserable you look, Sir!" Cried the prince. "It is poverty, not misery", replied Chuang Tzu. "A man who has TAO cannot be miserable. Ragged clothes and old boots make poverty, not misery".

Chuang Tzu - (Taoism)



A Distrust of Intellect

Sell your cleverness and buy bewilderment; Cleverness is mere opinion, bewilderment intuition.

Rumi - (Islam)



A Yearning for Divine Edification

This I say therefore, and testify in the Lord, that ye henceforth walk not as other Gentiles walk, in the vanity of their mind. Having the understanding darkened, being alienated from the life of God through the ignorance that is in them, because of the blindness of their heart:

St. Paul - (Christianity)



Charity

He that does everything for Me, whose supreme object I am, who worships Me, being free from attachment and without hatred to any creature, this man, Arjuna!, comes to Me.

Bhagavad Gita - (Hinduism)



Purity of Heart

The path of the just is as the shining light, that shineth more and more unto the perfect day. The way of the wicked is as darkness: they know not at what they stumble.

Solomon - (Judaism)



Humility

Would you become a pilgrim on the road of love? The first condition is that you make yourself humble as dust and ashes.

Ansari of Herat - (Islam)



Meekness

Let a man overcome anger by love, let him overcome evil by good; let him overcome the greedy by liberality, the liar by truth! Speak the truth, do not yield to anger; give, if thou art asked for little; by these three steps thou wilt go near the gods.

Dhammapada - (Buddhism)






Wisdom Quotes from Christian Sources

A selection of wisdom quotes that demonstrate the profound depth of the insights that are recognised by Christian authorities are set out below. They are sourced from the Bible and also from the works of Thomas a Kempis whose "Of the Imitation of Christ" ranks as the second most widely read Christian text after the Bible itself.


A Disdain for Materialism

Some have Me in their mouths, but little in their hearts.
There are others who, being enlightened in their understanding and purified in their affection, always breathe after things eternal, are unwilling to hear of earthly things, and grieve to be subject to the necessities of nature; and such as these perceive what the Spirit of Truth speaketh in them.
For it teacheth them to despise the things of the earth and to love heavenly things; to disregard the world, and all the day and night to aspire after heaven.

Thomas a Kempis



A Distrust of Intellect

Beware lest any man spoil you through philosophy and vain deceit, after the tradition of men, after the rudiments of the world, and not after Christ.

St. Paul



A Yearning for Divine Edification

It is written, Eye hath not seen, nor ear heard, neither have entered into the heart of man, the things which God has prepared for them that love him. But God has revealed them unto us by his Spirit: for the Spirit searches all things, yes, the deep things of God.
...the natural man receives not the things of the Spirit of God: for they are foolishness unto him: neither can he know them, because they are spiritually discerned.

St. Paul



Charity

Beloved, let us love one another: for love is of God; and every one that loveth is born of God, and knoweth God. He that loveth not knoweth not God; for God is love.

St. John



Purity of Heart

Wherefore, my beloved, as ye have always obeyed, not as in my presence only, but now much more in my absence, work out your own salvation with fear and trembling. For it is God which worketh in you both to will and to do of his good pleasure. Do all things without murmurings and disputings: That ye may be blameless and harmless, the sons of God, without rebuke, in the midst of a crooked and perverse nation, among whom ye shine as lights in the world;

St. Paul



Humility

Neither be ye called masters: for one is your Master, even Christ. But he that is greatest among you shall be your servant. And whomsoever shall exalt himself shall be abased; and he that shall humble himself shall be exalted.

Jesus



Meekness

Wherefore, my beloved brethren, let every man be swift to hear, slow to speak, and slow to wrath: For the wrath of man worketh not the righteousness of God.

St. James



If any our visitors will be so open-minded as to give our presentation of the QUITE AWESOME Wisdoms that have been won by the Mystics and Poets a fair hearing we believe that we can firmly establish their own, individually-held, opinions of their collective insights as one of appreciation and respect.

Explore Inner Space!!!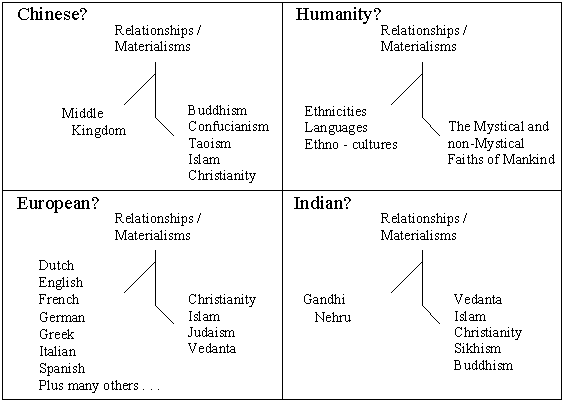 "...man is a bundle of relations, a knot of roots, whose
flower and fruitage is the world..." Ralph Waldo Emerson




It is widely known that Plato, pupil of and close friend to Socrates, accepted that Human Beings have a " Tripartite Soul " where individual Human Psychology is composed of three aspects - Wisdom-Rationality, Spirited-Will and Appetite-Desire.

What is less widely appreciated is that such major World Faiths as Christianity, Islam, Hinduism and Buddhism see "Spirituality" as being relative to "Desire" and to "Wrath".
Links to Particularly Popular Topics & Pages